Fine Solutions
Internet Site Redesign
The Challenge
This project seemed like a time trial in my ability to take rough wire frames and turn them into a full fledged site. I know I'm not the first to take on a task like this, but a little over one month left little time to spare in the grand scheme of things for a complete site redesign and development of an already existing body of content with additions.
The Solution
The main solution to design problems was constant and consistent contact with the client. Her immediate feedback allowed me to make design changes on the fly, even in our meetings. That made the iterative process far smoother and less time consuming than it would have otherwise been. Our development solution was to create the entire site on a test server and then once complete turn the test server into production, effectively hot-swapping the two instances. This allowed for the shortest downtime possible. It also gave the most time to work on bugs right up until we had to flip the switch.
By the Numbers.
This project came down to a tight turn-around and a lot of hard work mixed with a healthy helping of determination.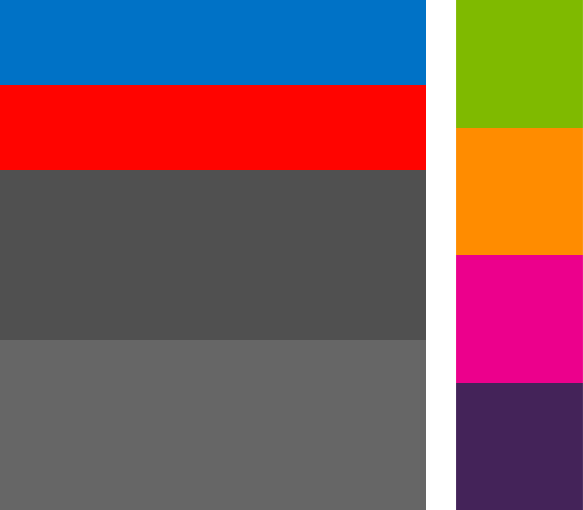 Color Exploration
Our target audience was 'decision makers'. They are used to the blues on so many tech sites, and we wanted to stand out. The most challenging part about early palettes was that the logo would get lost. I decided to use gray to make the logo and other accents pop off the screen. I chose to keep the application of accents colors fairly sparse. Only selected top-level/sub navigation and H tags use the accents.
A new icon font
The decision to go with an icon font was made early on, because I wanted to make sure that the client could easily change colors and use the icons I created in other places as needed.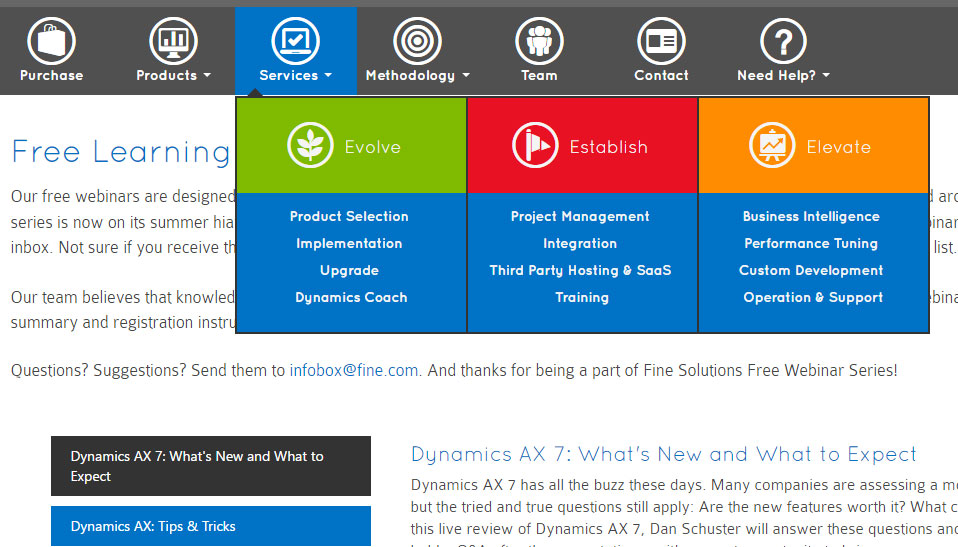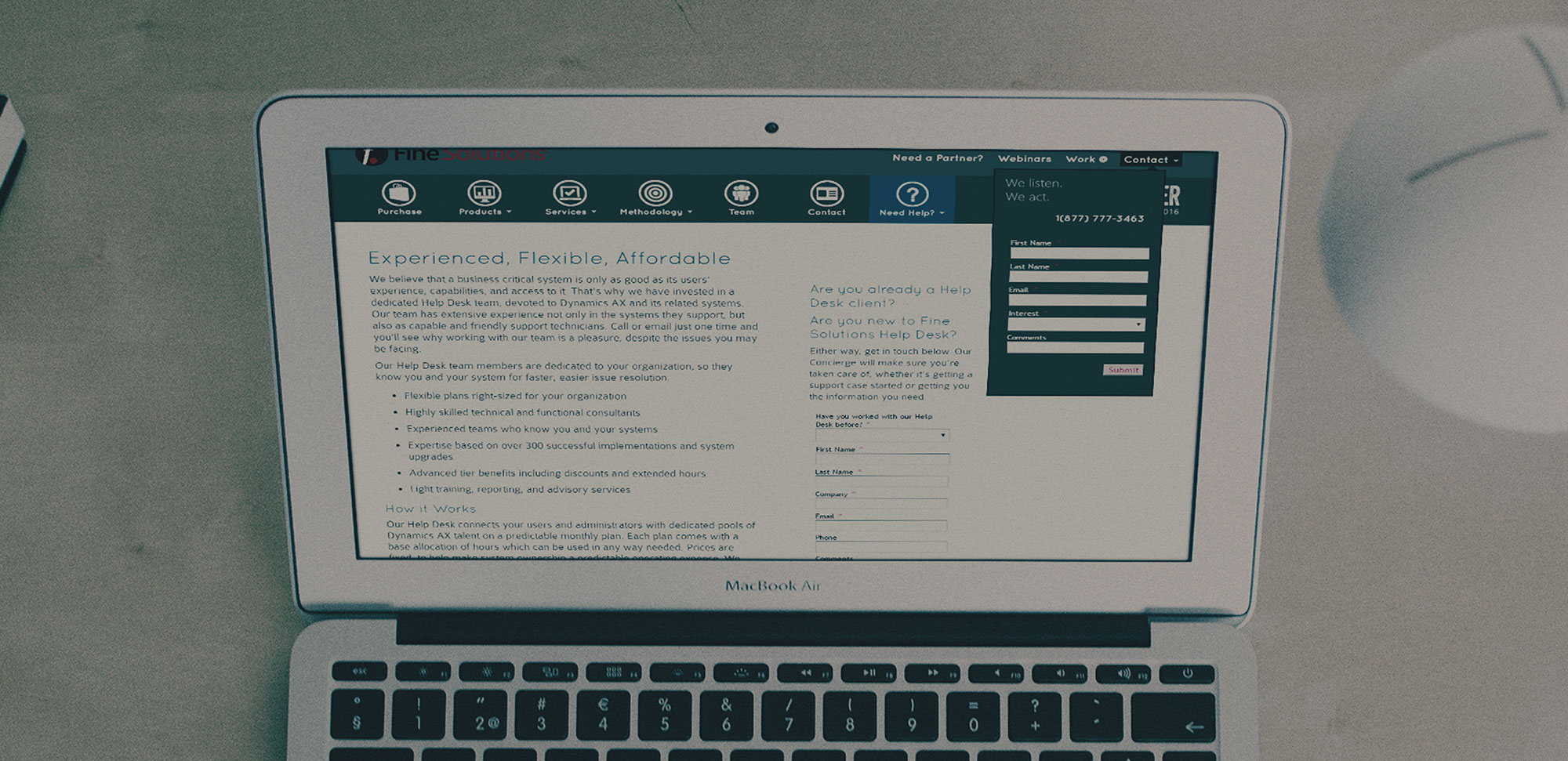 Dynamics Integration
Being that Fine is a Microsoft Gold partner in the area of Dynamics products it behooved them to incorporate the technology into their site. This proved to be problematic at times, but I was able to come up with a method by which Dynamics content could live in harmony within SharePoint's structure.
The Screens
The end result was a pretty picture with a good helping of information about both Fine Solutions and the products they support.
One Fine home
The main focus of the homepage was to explain to users what Fine's capabilities are.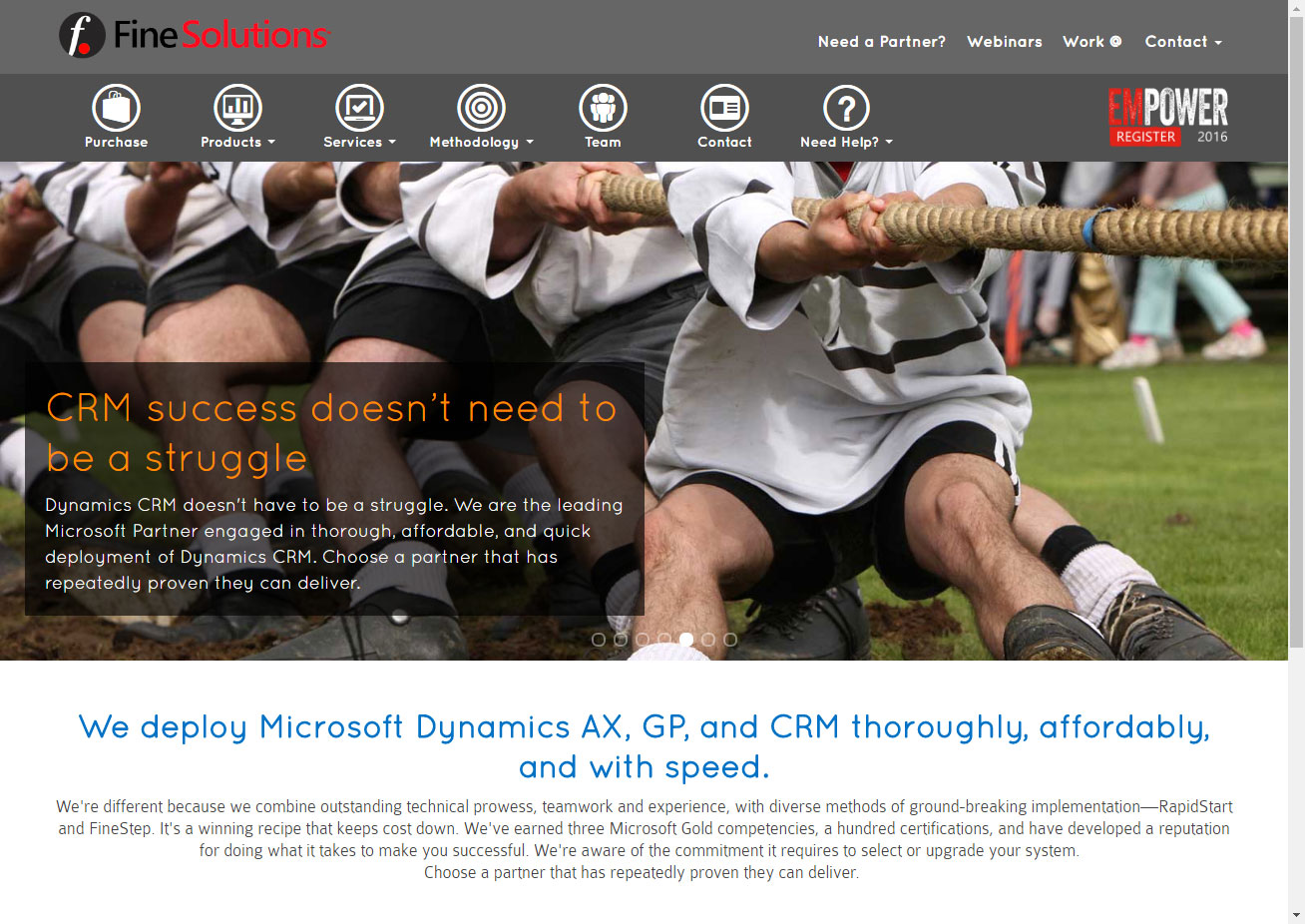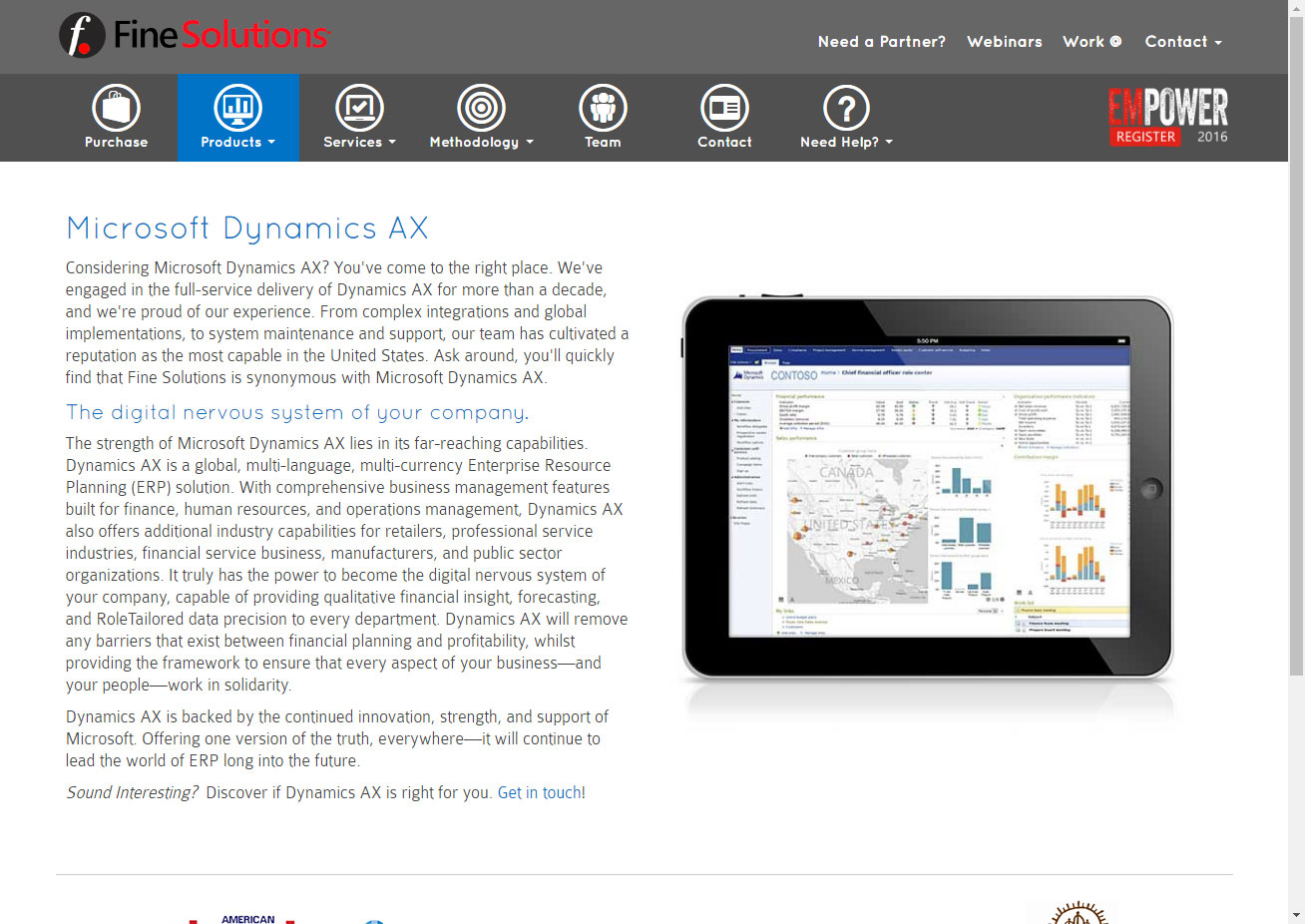 The Products
Being predominately an informational marketing site the main focus is on the Dynamics Products.
Services
Fine doesn't make money off the products they sell, it's the services they offer to install, and maintain the products. These pages are key to selling potential buyers on why they should choose Fine over the competition.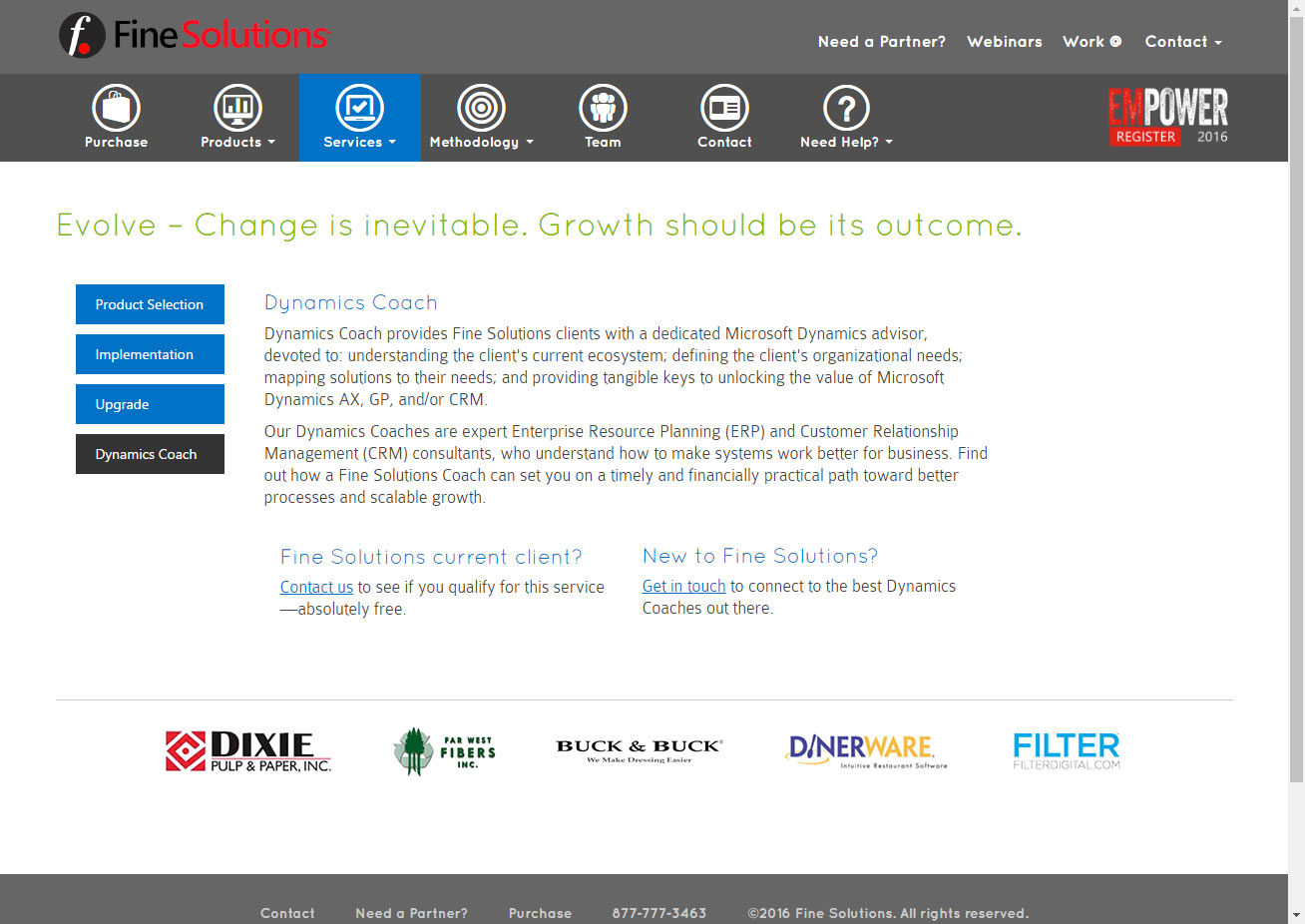 One good sounding team
The team page features a little snippet about who Fine is, and two long lists of all their Partners and Certifications, a quite impressive list if I do say so myself.
Fine Events
Another way that Fine Solutions gets their name out is through events. The goal here was to give them an easy way to just keep one list of all their upcoming events that would then be ordered by date, so that visitors can see what they're up to in the days to come.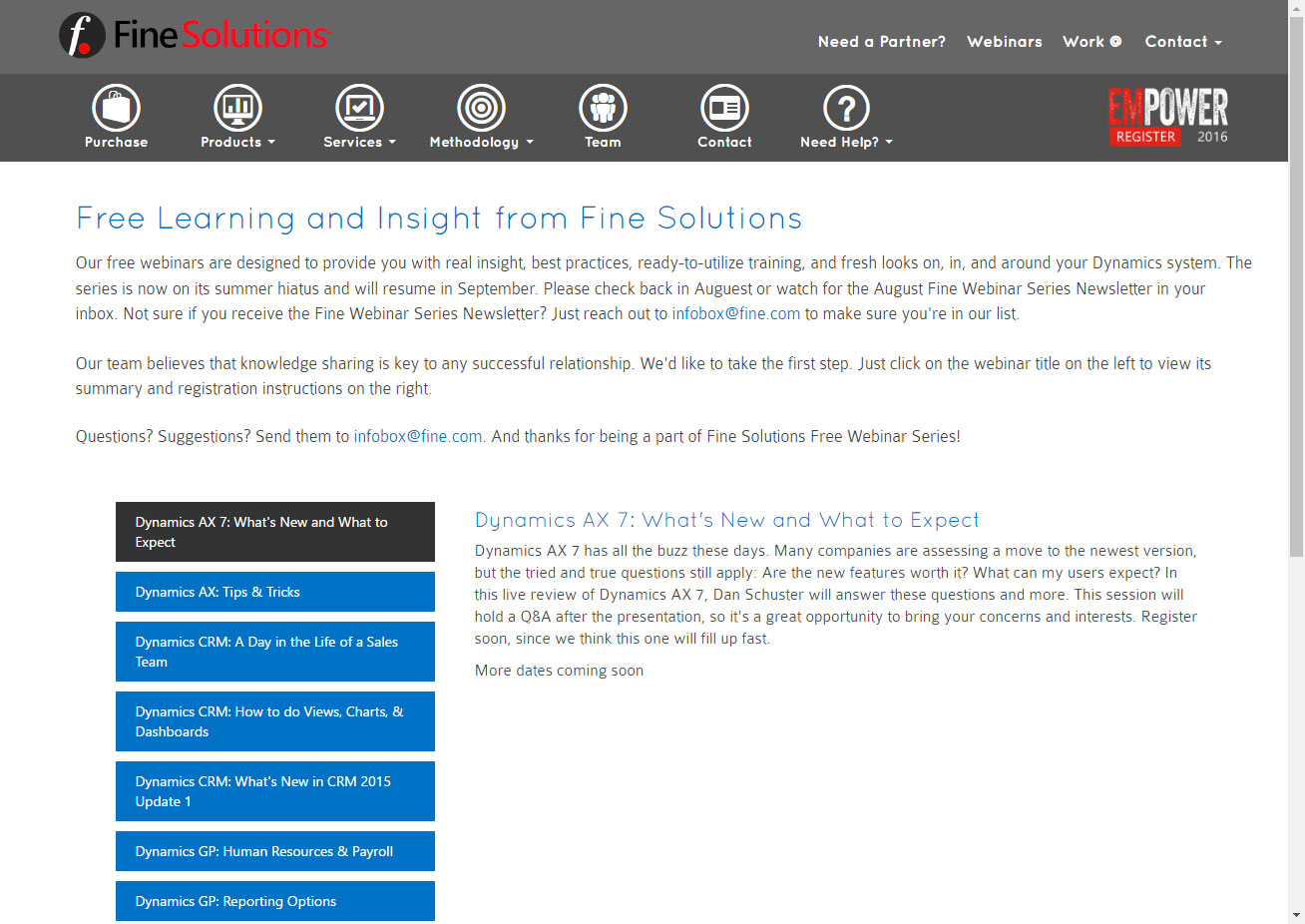 Do you need your old SP2010 site brought into the present?